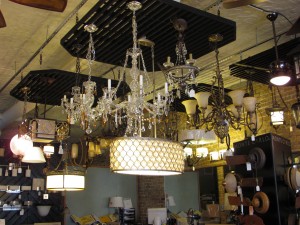 CUSTOM LIGHTING
We are a family owned and run lighting showroom.  We have been in business since March of 2004.  We sell to anyone and everyone in the Gainesville, FL area.  We work with everyone from new home builders to individuals upgrading lighting in their existing home.  We pride ourselves in providing the customer with a positive experience when choosing lighting for their home or business.  We offer free lighting consultations by appointment. 
KITCHEN LIGHTING:  Most often the kitchen is the busiest part of the house. Not only is food prepared here, but your family and friends gather here as well. Proper lighting is a must for performing culinary skills, reading the paper or helping your kids with their homework. Mixing various types of fixtures will create a comfortable space while at the same time giving you the proper lighting your kitchen needs. This is also called layering. For example, task lighting is placed over the sink and prep areas where close work is done regularly. Task lighting can be provided by a pendant over a work area or a sconce on either side of the sink. To contrast, the dining space is illuminated with a chandelier which provides ambient light for meals. This also separates the dining areas from the work area. Size is an important factor when choosing fixtures. A large chandelier would be out of place in a smaller dining space so choose a smaller one. This doesn't mean you have to sacrifice style. Mini-chandeliers and island fixtures have become very popular as family meals have moved from the more formal dining rooms to the kitchen area. Whatever your style is, Capital Lighting has a wide variety of fixtures to help you achieve the perfect lighting plan.
We would love to offer our services to you or your business. 
Please contact us and set up a time to meet with us! 
Barbara & Rene
14545 Main Street, Alachua, FL  32615
(386) 462-2456
http://www.customlightingstore.com