LOOKING FOR THINGS TO DO ?  Scroll down through our park listings. . .

_______________________
___________________

SAN FELASCO STATE PARK   is a 24-acre wildlife, greenway and recreation corridor located in northwest Alachua County adjacent to Progress Corporate Park and San Felasco Hammock Preserve State Park,· Entrance to the site is by way of NW 126th Terrace.· The project site is operated by the City of Alachua.
http://www.floridastateparks.org/sanfelascohammock/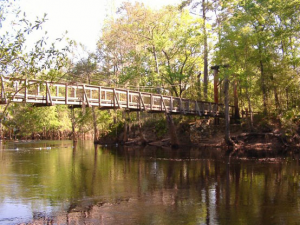 OLENO STATE PARK    is located along the banks of the scenic Santa Fe River, a tributary of the Suwannee River, the park features  sinkholes, hardwood hammocks, river swamps, and sandhills. As the river courses through the park, it disappears underground and reemerges over three miles away in the River Rise State Preserve. One of Florida's first state parks, O'Leno was first developed by the Civilian Conservation Corps (CCC) in the 1930s. The suspension bridge built by the CCC still spans the river. Visitors can picnic at one of the pavilions or fish in the river for their dinner. Canoes and bicycles are available for rent. While hiking the nature trails, visitors can look for wildlife and enjoy the beauty of native plants. The shady, full-facility campground is the perfect place for a relaxing overnight stay. Located on U.S. 441, six miles north of High Springs.    http://www.floridastateparks.org/oleno/
______________________________
ALACHUA BRANCH LIBRARY
Thinking outside the book…
14913 NW 140 Street
(386) 462-2592  http://www.aclib.us/alachua
______________
LOCAL PARKS

HAL BRADY RECREATION COMPLEX
Indoor/Outdoor Basketball,  Softball, soccer, and football fields, Batting Cage, Playground, Sheltered Picnic Area, Skate Park, Spray Park … and more coming !
14300 NW 146 Terrace
PO Box 9, Alachua, FL 32616
386-462-1610
The City of Alachua Recreation Department invests heavily in park landscaping, appearance, functionality, cleanliness and safety for our citizens and visitors.   Our parks include a spray park, skate park, playgrounds, tennis courts, batting cage, softball, baseball, soccer and football fields, basketball courts and picnic areas.  Parks are open from Dawn to Dusk.
______________________________
The Water Spray/Skate Park at the Hal Brady Recreation Center is IDEAL FOR TINY TOTS  and a great place to have a kid's party. Hours of operation are to 9 a.m. to 6 p.m., 7 days a week.  If you just want to have a party at the Spray Park, the facilities at the park are free.  For a private party the space may be rented in morning hours.   http://www.cityofalachua.com/index.php/splash-park

ALAN HITCHCOCK THEATRE PARK ON MAIN – Take a rest after lunch or between shopping.  Sometimes you'll see a wedding, or artists painting away, or even kids visiting with Santa or Easter Bunny  …  lots of folks walking by … 14900 Main Street
_
_________________________________________________________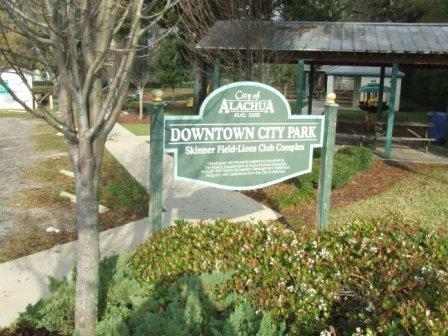 ALACHUA LION'S CLUB DOWNTOWN PARK and ORIEN HILLS/SKINNER FIELDS AND PARK:  TEMPORARILY CLOSED FOR RENOVATIONS.
Playground, shelters, restrooms, basketball and tennis courts, batting cage, ball fields.  15120 Main Street
_________________________________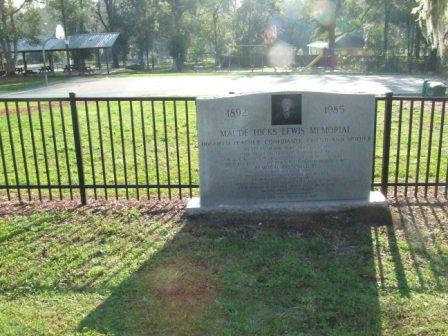 Playground, shelter and basketball court – 15731 NW 141 Street
_______________________________
Playground, shelter and basketball court
15490 Hipp Way
_____________________________
FEIRMON E. WELCH PARK
Playground, shelter and basketball court
13801 NW 142 Avenue
_______________________________
Playground, shelter and basketball court, nature trails, pond overlook – 13851 NW 126 Terrace
________________________________________________________
CLEATHER HATHCOCK COMMUNITY CENTER – Senior Activities
15818 NW 140th Street – (386) 418-1373 or (386) 462-1610
_____________________________
SWICK CULTURAL CENTER
15010 NW 142nd Terrace, Behind City of Alachua Municipal Complex
386-462-1610
_____________________________